Cramers' Inc. utilizes a pair of state-of-the-art machines for laser-cutting various metal materials.
Laser-Cutting Machines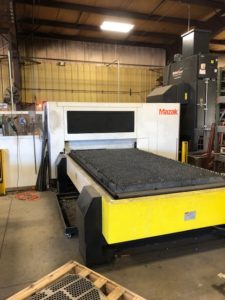 Mazak Optiplex 3015 Fiber Laser
60″ x 120″ maximum sheet size
Capacity: 1″ steel, 3/4″ stainless steel, 3/8″ aluminum, 3/8″ brass, 5/16″ copper
Our Mazak Optiplex 3015 Fiber Laser offers fiber optics laser cutting utilizing an innovative control and drive package to deliver high performance. This laser cutting machine provides higher productivity through high speed and high accuracy. Sensors monitor piercing and cutting operations to improve part and overall product quality.